Posts for tag: teeth whitening
By Holland Dentistry
November 30, 2015
Unhappy with your dull smile? Teeth whitening may be the solution. Jeffrey L. Holland, DMD, of Holland Dentistry, your dentist in Paducah, shares some important information about the tooth whitening process.
Who can benefit from teeth whitening?
Teeth whitening can help lighten your teeth if they've become stained, yellow or discolored. Whitening can help if aging or the use of tobacco or caffeine exposes the darker dentin under your enamel, making teeth look duller. It's also a good option if you have stains on the enamel of your teeth due to eating or drinking any of the following:
Cherries
Soy sauce
Cola
Tea and Coffee
Tomato sauce
Popsicles
Candy
What about drugstore options?
You'll find plenty of teeth whitening kits and toothpastes at the drugstore. While these products can lighten your teeth, they aren't as strong as the products available to your dentist and results won't be quite as impressive. Results from drugstore products may last weeks or months, depending on the product, while your teeth may looker whiter and brighter for six months to two years after you visit your dentist for teeth whitening services. Also, some whitening toothpastes are so abrasive that they may actually damage your enamel.
How does my dentist whiten my teeth?
Your dentist may recommend one of two options: in-office whitening or home whitening trays. If you choose the in-office method, your dentist will first apply a substance that will protect your roots and gums during the whitening process and then put a special teeth whitening product on your teeth. After an hour, the gel will be removed and your teeth will be whiter.
If you prefer to use the at-home method, your dentist will make impressions of your upper and lower teeth. These impressions will be used to create molds for trays, which you will use at home. Before you place the trays in your mouth, you'll fill them with a teeth whitening gel provided by your dentist. Although it may take a few weeks until you see full results, at-home teeth whitening is a good option if you want to brighten your smile.
Want to find out how you can turn your smile from dull to dazzling? Call Paducah dentist Jeffrey L. Holland of Holland Dentistry at (270) 534-4887 and schedule an appointment today.
By Holland Dentistry
May 31, 2013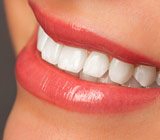 Have you ever wondered why your smile is not as white as it used to be? Well, there may be a few different reasons that your teeth have become discolored over the years. The change in color may simply be due to wear and tear from aging. It may also be a result of dietary factors, because foods containing tannins, such as red wine, coffee and tea are known to discolor teeth. Tobacco use, whether smoking or chewing, is another common cause of stains on your teeth.
So, what should you do if you decide you would like a whiter smile? You should first make an appointment with our office, so that we can assess the root cause of the discoloration. We may recommend a quick and easy solution with in-office whitening, sometimes known as power bleaching.
An in-office whitening treatment can lighten your teeth three to eight shades in just one office visit! During your whitening treatment, we will first protect your lips, gums and cheeks, leaving only your teeth exposed. Then, we will apply a professional strength bleaching gel to your teeth. We may use a special light to make the bleach work faster. The great advantage of this treatment is that your smile will become noticeably whiter in just an hour!
If you would prefer to whiten in the comfort of your home, we can give you a take-home whitening kit. First, we will make molds of your mouth, from which we will create thin plastic mouth trays that fit your teeth exactly. You'll apply the whitening gel to the trays and wear them on your teeth 30 minutes a day, twice a week, for about six weeks. While your teeth may not whiten as fast as in our office, if you wear them as directed, you'll still see great results.
Though you may always be able to find a whitening solution in the aisle of your grocery store, remember that the best way to ensure the results you want is to get a professional treatment.
If you would like more information about teeth whitening, please contact us or schedule an appointment for a consultation. You can also learn more by reading the Dear Doctor magazine article "Teeth Whitening."